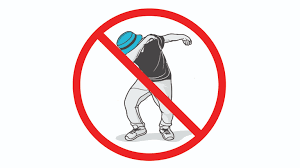 P.A.T.W.D
People Agiants Those Who Dab
Links:
Every year, over 1 billion kids dab. This sin has been proven to give kids a slight brain virus that slowly corrupts their body. This virus is called "idiotitis", a virus that makes kids think their cool, even though their dabbing, which i can confirm is not cool. People are very worried and politicians are getting rushed at by crowds of angry people wanting them to safe their people.
Studies show that their is no cure yet and that this virus is going to take over all kids until they are nothing but walking people dabbing everywhere. Parents are advised to keep their kids at home and if they catch the disease they will need to put them out of their misery. Do NOT take them to a hospital or it will affect anyone else in the building so kill them quick, as it spreads like wildfire.
The whole state of Germany,Russia and Brazil have been affected by this virus. Scientists are busy creating a nuke that can kill of the virus only but the creation has so far been a catastrophe. We are going to warn you to sign up for a space program so you can move to the moon where it cant harm you.