Home
The Creator of Dark Deception
Glowstick Entertainment
Glowstick Entertainment (previously known as Glowstick Games) is a small group of people working on horror games. They are best known for developing Dark Deception. They also have their own website.(Go check it out)
About
According to their "Meet the Team" videos, the Dark Deception team primarily consists of four people.
Vince Livings - Game Designer
Pen Livings - Texture Artist
Nikson Sita - Programmer and Lighting Artist
Dan Dombrowsky - Soundtrack Composer
As of June 20, a new member has joined the crew. According to one of the developer's tweets, they have worked on games such as Pirates of the Caribbean, Star Wars, Ratatouille, Broken Age. They will animate all of Bierce's cutscene animations.
Background
Glowstick Entertainment was originally founded by Vince Livings and Mark Henderson as Glowstick Games. They released the pre-alpha demo of Dark Deception in March of 2014 and was developed in Unity. The premiered the game in many events, in which they received positive reviews. The alpha-demo of the game was released on January 16, 2015.
Later, a Kickstarter page for the game was opened. A trailer for the game was posted there, which said that the complete game would be finished around April 2015. However, there are two reasons why the game couldn't be complete. The first one is that the head of the company, Mark Henderson, had an argument with the other member Vince Livings, resulting in them splitting up. The second reason was not enough money being collected for the game's finished project.
In October 2017, Vince met Nikson Sita and restarted the game development in Unreal Engine 4.
Other Games
Glowstick Entertainment has released another game titled Farmocalypse (originally titled Dead Acres, changed due to copyright issues) which was released on November 24, 2015.
A crossover stand-alone game between Dark Deception and Yandere Simulator titled "Ayano's Lovesick Labyrinth" will be released in after Chapter 4.
A stand-alone game, which is called "Dark Deception: Monsters & Mortals", which is the multiplayer game, will be released in 2020.
Some Trivia
Glowstick Entertainment has referenced that after Dark Deception is finished, they will create another game. Not much is known about this game other than that it might come out.
On August 13, Glowstick Entertainment released a modified track of "Drawn to Darkness" from "Bendy And The Ink Machine". According to them, this track was made for if Joey Drew Studios Inc. agreed to give Bendy his own DLC level. This agreement was declined shortly afterward.
Social Accounts
Facebook: Glowstick Entertainment
Instagram: glowstickentertainment
Youtube: Glowstick Entertainment
Workers
Vince Livings
"...as a designer, I think everything in my life helps shape my ideas; from the places I've been to, to the people I've met, to things that I've seen and experienced have all contributed to developing these ideas..."
Said By Vince Livings
Vincent "Vince" Livings is the head of Glowstick Entertainment and the lead creator of Dark Deception.
As the representative of the team, Vince is also responsible for hosting monthly Q&A livestreams, showcasing members of the team, and announcing upcoming game content.
Not much is knowen about Vince at this time but of you want to see more about him here is his "Meet The Team" video and go checkout the Glowstick Youtube Chanell to see his Live Q&A Live Streams
Nikson Sita
All we know about Nikson Sita at this momment in time is that he is the programmer and the lighting artist for dark deception but is also knowen for making a handful of five nights at freddy's fanmade games including Joy Of Creation: Story Mode and Those Nights at Rachel's all avalible on game jolt (go check him out, link at social page)
Pen Livings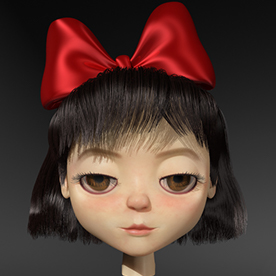 Like most of the group there is not muck knowen about this person exept for that she is the co-founder and art directorfor this game.
Dan Dombrowsly
Unlike everyone else, There are some things knowen about Dan so here is all the information we know at this point in time
Dan Dombrowsky is a composer, and multi-instrumentalist, who composes music for Dark Deception, Ayano's Lovesick Labyrinth, Monsters & Mortals and other games related to Dark Deception. He made the Dark Deception soundtracks for Chapter 2, 3 and 4.
Biography
This can be found on his Website
L.A.-based DANIEL DOMBROWSKY is a film / TV / video game composer and songwriter with over 20 years of music industry experience.
From making noise in neighborhood garage-bands to headlining clubs; from working side by side with legends of music to being a record label exec, Daniel has explored every corner of the industry and brings that breadth of experience to every project.
On any given day, Daniel can be found in his LA studio talking to his dog Moe, and creating the unique sound of different hit TV series such as "The Carbonaro Effect", "South Beach Tow", "Big Easy Justice" and "On The Rocks".
In addition to writing for TV and trailers, he works closely with visionary filmmakers and game designers to create the sounds of their narrative worlds. Recent projects include "The Ningyo", "The Green Ruby Pumpkin" (Miguel Ortega), "Ink & Steel", "Predatory" (Patrick Ward-Perkins & Jonathan Ehlers), "Northfield" (Cameron Schwartz) and "Dead Acres" (Glow Stick Games).
In the advertising realm, Daniel has also crafted the soundscapes of various ad campaigns, including Oyster.com, Renaissance Day Of Discovery 2015, the Marriot Mobile App and the 2016 Tongal Award nominated song for the International Delight campaign.
Discography
Studio Albums
Ink & Steel - Original Motion Picture Soundtrack - Released on February 3, 2017
Dark Deception: Chapters 1-3 (Original Soundtrack) - Released on Febuary 25, 2019
Dark Deception: Chapter 4 (Original Soundtrack) - Released on January 31, 2020
EPs
All Done (EP) - Released on August 14, 2017
Social
Vince
Nikson Sita
Gamejolt Page: @Nikson_Official
Side Games Created By Nikson
Those Nights at Rachel's 2 | Reloaded
The Joy Of Creation: Story Mode
The Joy Of Creation: Halloween Edition
Dan Dombrowsky