HORSES
Horse breeds are loosely divided into three categories based on general temperament: spirited "hot bloods" with speed and endurance; "cold bloods" such as draft horses and some ponies, suitable for slow, heavy work; and "warmbloods", developed from crosses between hot bloods and cold bloods, often focusing on creating breeds for specific riding purposes, particularly in Europe. There are more than 300 breeds of horse in the world today, developed for many different uses.
SHOW JUMPING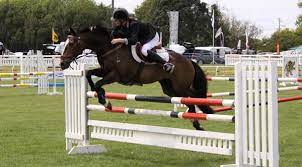 Show jumping, also known as "stadium jumping", is a part of a group of English riding equestrian events that also includes dressage, eventing, hunters, and equitation. Jumping classes are commonly seen at horse shows throughout the world, including the Olympics. Sometimes shows are limited exclusively to jumpers, sometimes jumper classes are offered in conjunction with other English-style events and sometimes show jumping is but one division of very large, all-breed competitions that include a very wide variety of disciplines.
WESTERN
Western riding evolved from the cattle-working and warfare traditions brought to the Americas by the Spanish Conquistadors, and both equipment and riding style evolved to meet the working needs of the cowboy on ranches in the American West. Though the differences between English and Western riding appear dramatic, there are many similarities. Both styles require riders to have a solid seat, with the hips and shoulders balanced over the feet, with hands independent of the seat so as to avoid disturbing the balance of the horse and interfering with its performance.