1800's-1899's
1820
The arrival of pakeha eventually had a devastating effect on the Maori population of the Wairarapa. A number of war parties from the far north, recently equipped with muskets obtained from pakeha, passed through the region in the 1820s, killing and eating a large number of local Maori.
1830
In the early 1830s, members of the Taranaki tribes who had recently arrived and settled in the Wellington area followed the first wave of intruders into the region. After a series of skirmishes that went the way of the musket carrying aggressors many Wairarapa hapu decided to withdraw to the Kahungunu ancestral homeland at Nukutaurua on the Mahia Peninsular. Some Rangitaane hapu joined relatives in the Manawatu, while others, of both iwi, chose to withdraw deep into the Wairarapa bush and wait.
1840
6 Feb, New Zealand's founding document 'The Treaty of Waitangi', is signed.
1841
'Te Heke o nga Rangatira', a peace treaty between the Wairarapa rangatira Tutepakihirangi and the occupying Te Atiawa rangatira Te Wharepouri sees the return of the local iwi to their homelands. At the same time the first New Zealand Company settlers, attracted by extravagant promises of work and a chance to buy land, arrived at Port Nicholson (Wellington) and began casting their eyes over the broad Wairarapa valley, assessing its potential as pastoral lands for their herds of sheep.
1845
The Crown threatens military action and confiscates eighty thousand acres at Maungaroa (White Rock) after an incident involving settler Billy Barton's staff and rangatira Te Wereta Te Kawekairangi. "I would not allow them to feed their sheep upon my land and enrich themselves at my expense." Te Wereta Te Kawekairangi, 1845
1859
Tamahau Mahupuku begins writing down his tribal history while on a shearing run. This written history became a crucial and important part of New Zealand's recorded Maori history. It is still used as a reference by Maori scholars today.
1860s
The Ngati Kahungunu tohunga Te Matorohanga passes on his knowledge of history and traditions. Hoani Te Whatahoro Jury will later transcribe these stories, and Tamahau Mahupuku and others will help the ethnologist S. Percy Smith to translate them into English. The transcripts and translations are to become an important record of early Maori history.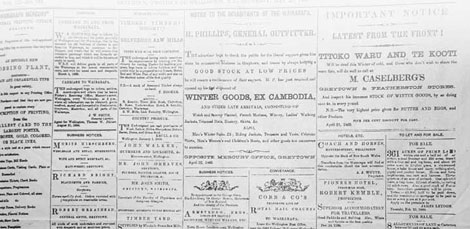 1888
The Mount Bruce Forest Reserve is formed to protect a surviving remnant of the original Seventy Mile Bush, Tapere nui a Whatonga
1897
H.P. Tunuiarangi (Major Brown) was made a Captain in a contingent of the Volunteer Force to accompany Premier Richard Seddon to Queen Victoria's Diamond Jubilee celebration. On 2 July the colonial troops were reviewed by Queen Victoria, and Captain Tunuiarangi was presented to her. He was given a Jubilee Medal and a ceremonial sword inscribed for the occasion.While in London he petitioned for the remaining estimated five million acres of Maori land to be reserved in perpetuity. The petition and address was prepared at Papawai.